I am saddened to report the passing of Dr. Hossein Yazdi.
Born in Iran in 1934, Hossein Yazdi was the son of Dr. Morteza Yazdi, a physician born in 1907. Morteza Yazdi served as Iran's Minister of Health for a brief period in 1946. Less known is the fact that Morteza Yazdi was one among the group of individuals known as "The 53." This group, comprised of active Iranian communists, was arrested during the 1930s under the reign of Reza Shah the Great. The importance of "The 53" lies in their later establishment of the Tudeh Party, the Iranian Communist Party that pledged loyalty to the Soviets. Despite Morteza Yazdi's strong communist beliefs, he served as the Shah's Minister of Health in 1946 without any issue.
In 1954, Morteza Yazdi and his family left Iran for East Germany to continue their opposition against the Shah and the Iranian monarchy. With assistance from the Germans and the Soviets, they worked in conjunction with the Tudeh party. Morteza Yazdi had two sons, Hossein and Fereydoon, both of whom were actively involved in the Tudeh Party's youth organization.
As Morteza ascended the ranks, becoming a member of the Tudeh Party's Central Committee, his sons, proficient in both Persian and German, acted as translators for all communication. This position gave them access to comprehensive information about the party both within and outside of Iran.
After experiencing firsthand the inherent corruption within the Tudeh party and the Communist ideology, the brothers, armed with a newfound understanding and appreciation for the Shah's contributions to Iran, secretly established contact with the Iranian embassy in Berlin. They were subsequently connected with the Iranian intelligence organization, SAVAK, by the embassy.
For five years, the Yazdi brothers provided crucial intelligence on the Tudeh Party's operations within and beyond Iran, thus equipping Iran with the means to monitor the largest Iranian Communist Party and forestall Soviet influence in the country.
In October 1961, however, Hossein Yazdi was apprehended by German security services and sentenced to life imprisonment. He served 16 years in East German prisons before his release in 1978/1979, which was a condition for the Shah's proposed visit to East Germany. Following his release, Hossein Yazdi continued to live in Germany and maintained his loyalty to Iran and the Shah. Until his death on February 5, 2021, he was an active Iranian monarchist.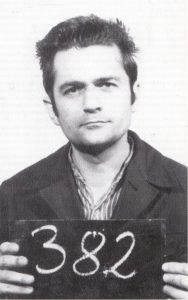 In a half-hour BBC interview in 2013, Hossein Yazdi explained that his decision to spy on the Tudeh Party and join SAVAK was driven by his love for Iran and the Shah.
Further information on the Yazdi brothers can be found in a book written in Persian. Additionally, a German documentary titled "Strafgefangener 382" or in English "Prisoner 382 – the fate of a Persian spy", covers Hossein Yazdi's life and work.
While Dr. Hossein Yazdi may have left us, he remains an integral part of our history. As a historical figure, his legacy will endure.