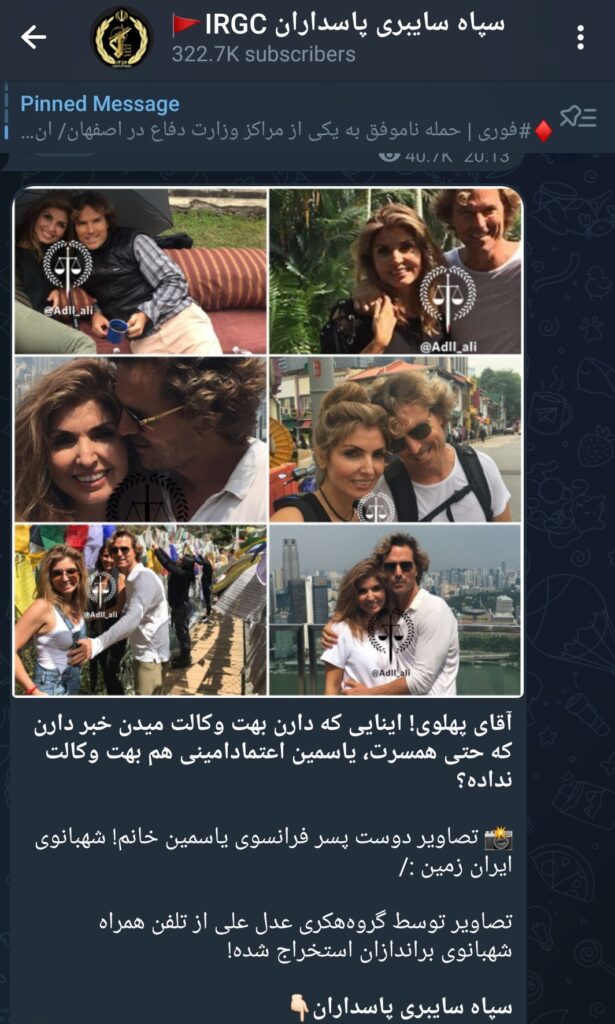 On October 18, I wrote a post about how the regime in Iran, through various people and channels, slanders the opposition: "The Islamic regime in Iran smears the opposition".
Here comes part 2 with more recent events so you can understand that we who are active in the Iranian opposition are not only subjected to threats and violence but also to vile lies and smears.
The Islamic Revolutionary Guard Corps in Iran has an account on, Telegram, an instant messaging client. There they recently published a collage of pictures where Yasmin Pahlavi, spouse of His Majesty Reza Pahlavi, is seen with another man (see image 1). Reza Pahlavi is the Shah of Iran's son and crown prince. He is also a leading opposition figure against the Islamic regime in Iran.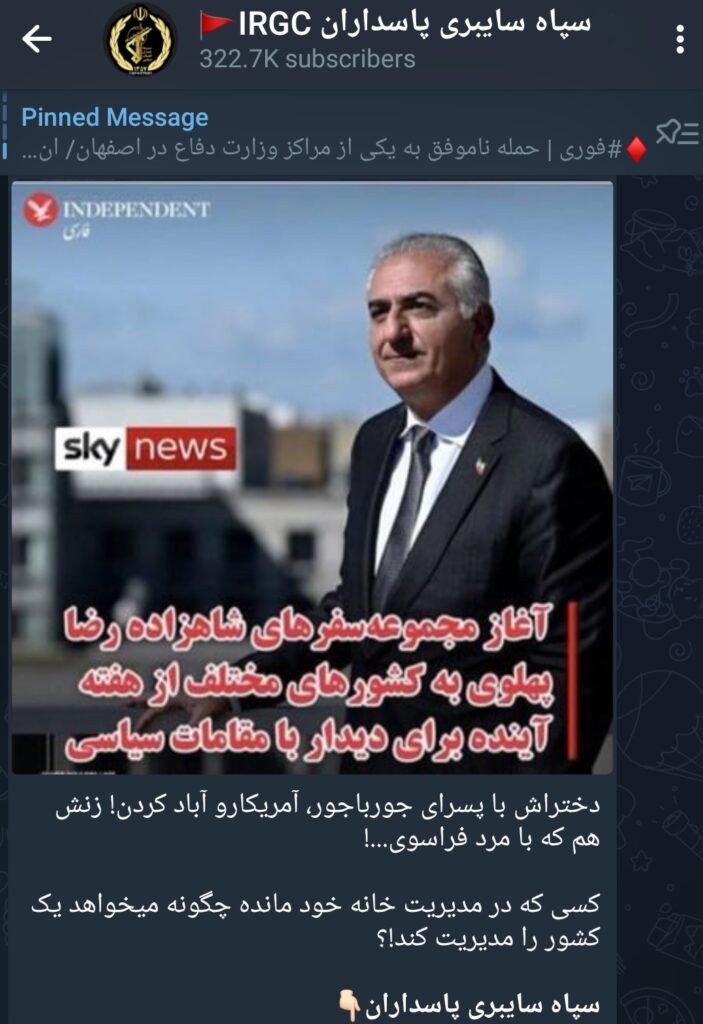 In the text below the collage, it is written, among other things, that this man is Yasmin Pahlavi's French boyfriend. In fact, the images are not secret and have been seen by people before. The man in the picture is the husband of Yasmin Pahlavi's closest friend. What the Iranian Revolutionary Guards are trying to do here is not really surprising as they represent the world's most misogynistic regime.
Shortly afterwards, the same account belonging to the Revolutionary Guards publishes a picture of Reza Pahlavi where they write that Reza Pahlavi's daughters (he has four daughters) "use to sleep around with various strange guys and his wife with a French man" (see image 2). Also completely fitting with the misogyny that pervades the Islamic Republic in Iran and all its organs.
You would think it could not get any worse than that. But alas, how wrong you can be. In the picture you can see a tweet from one of the supporters of the Islamic regime who works in the media in Iran. For his just over 7,000 followers on Twitter, he posts a picture of a woman together with Reza Pahlavi and writes the following (see image 3):
Since 2014 Yasmin Pahlavi have wanted a divorce from Reza Pahlavi because he has been unfaithful. Farah Pahlavi [my comment: Queen of Iran] managed to stop the divorce because of public opinion. The reason for why Ali-Reza Pahlavi committed suicide is because Reza [Pahlavi] raped Ali-Reza's girlfriend. Yasmin Pahlavi has for a long time had an emotional divorce from Reza Pahlavi.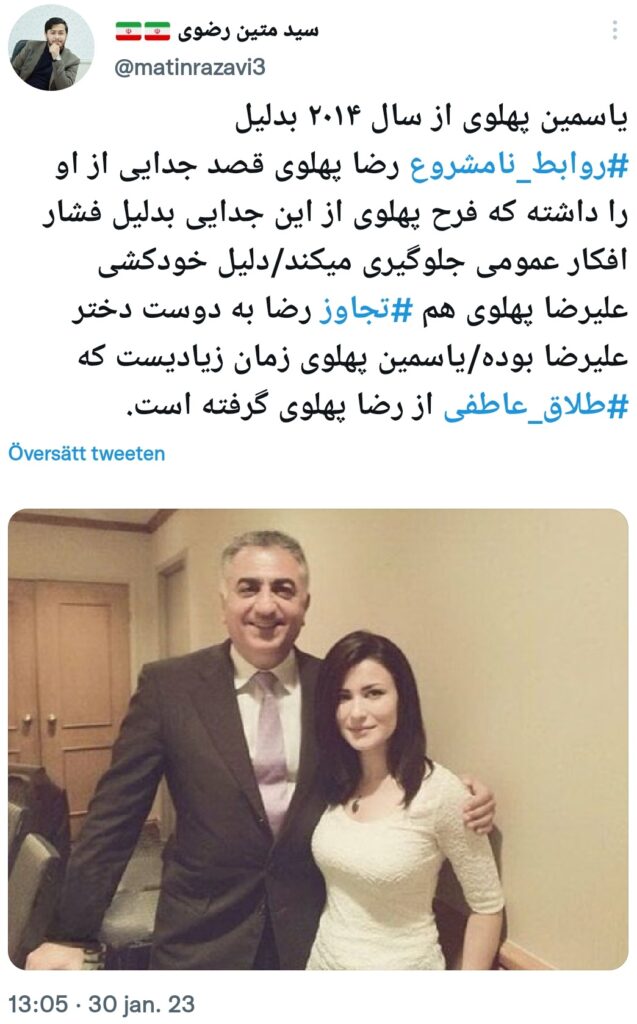 Not only is Reza Pahlavi accused of infidelity, but he is also accused of raping his brother's girlfriend, which then resulted in the brother taking his own life. However, here is the interesting thing: the woman in the picture is a human rights activist who has nothing to do with the text that the regime supporter writes.
There is no doubt that you feel nauseated, but that is the price many of us pay for our fight against a brutal and misogynistic regime.