It's no secret that the Islamic Republic, which has governed Iran since 1979, engages in extensive espionage and terrorist activities both domestically and abroad, particularly in Europe. I have extensively discussed this in many of my articles. For more insights, please refer to my previous writings, accessible through these links: https://besacenter.org/iran-1988-massacres/; https://besacenter.org/iran-political-assassinations/; https://besacenter.org/iran-foreign-agents-influence/; https://besacenter.org/iran-is-a-threat-to-swedish-national-security/.
Today, I wish to highlight another tactic that the Islamic Republic employs to suppress its exiled opposition: character assassination. Espionage and terrorism require significant financial and human resources and often create diplomatic crises. Consequently, the regime increasingly attempts to tarnish the reputation of opposition figures.
Sometimes these smear campaigns originate directly from the regime. For instance, the regime's media once falsely claimed that a popular exiled TV anchor was arrested in Amsterdam with 25 kilograms of narcotics while en route to Sweden. The news, intended to harm the reputation of the anchor, who worked for a prominent regime-critical broadcasting company, was entirely fabricated.
Similarly, the Persian Gulf radio channel in Malmö, South Sweden, headed by Vahid Haghighi in the early 2010s, frequently invented and broadcast fake news about oppositional Iranians in Malmö.
However, what I find particularly intriguing and worth discussing is the actions of Ali Alizadeh, a London resident and open supporter of the Islamic Republic of Iran. On left, Alizadeh is pictured at a demonstration in England, displaying the flag of the terrorist organization Hezbollah. He is active on Twitter, posting in both English and Farsi.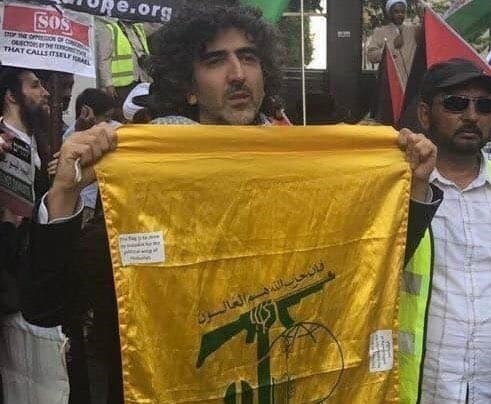 Recently, the Iranian journalist Reza Haghighatnejad, who worked for Radio Farda, tragically died of cancer at the young age of 45. Reza was a commendable journalist and a vocal critic of the Islamic regime in Iran. Upon his death, Alizadeh, who has approximately 230,000 followers, tweeted an unfounded claim about Reza's death, additionally insulting individuals living with AIDS and implying Reza contracted AIDS through sexual encounters. Alizadeh is clearly attempting to damage Reza's reputation posthumously, using sexuality and AIDS as tools for defamation. Alizadeh tweeted the following (translated from Farsi. See image on the left.):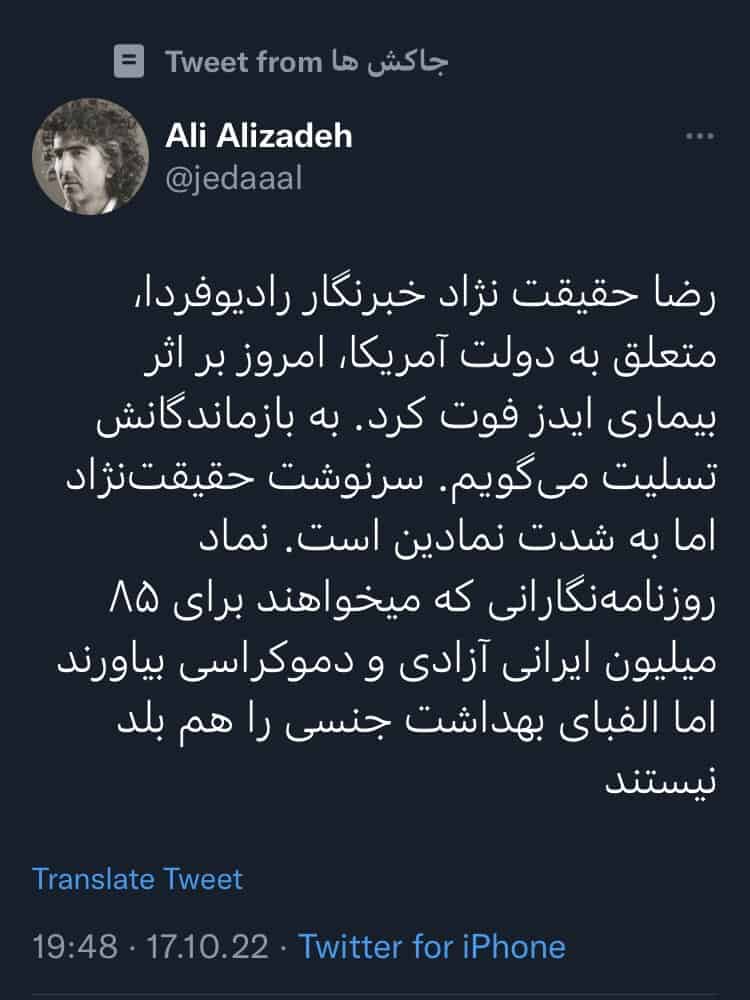 Reza Haghighatnejad, journalist for Radio Farda which belongs to the US government, has died today of the disease AIDS. My condolences to his loved ones. However, his fate is quite symbolic. Symbolic so that he, like other journalists, wanted to bring freedom and democracy to 85 million Iranians but cannot even handle their own sexual hygiene.
Alizadeh's disrespect towards illnesses is particularly repugnant, given his affiliation with the Islamic Republic. His tweet understandably sparked outrage. One response came from Pouria Zeerati, a prominent exiled TV anchor, who recounted an instance when he observed Alizadeh inhaling an unknown substance and questioned whether this behavior influenced Alizadeh's egregious claims about Reza's death.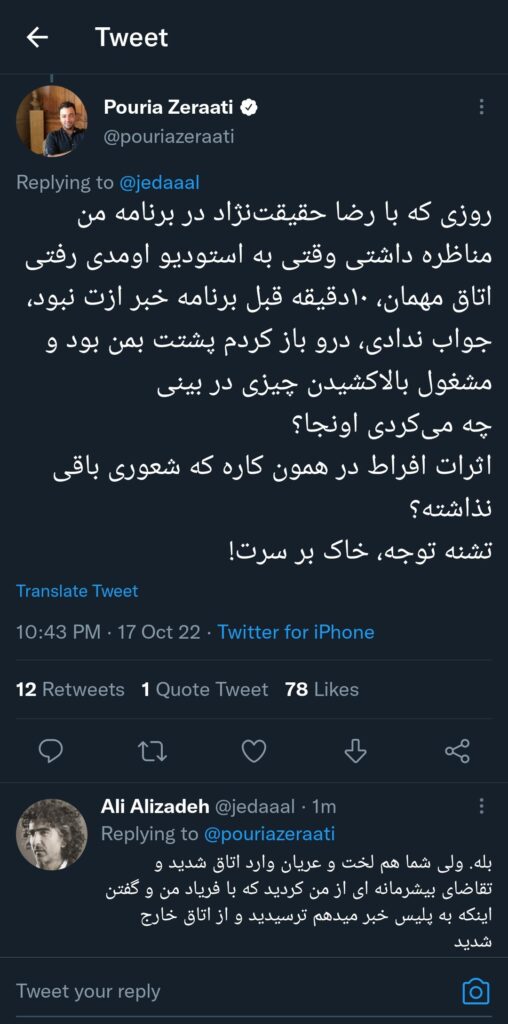 In reply, Alizadeh shockingly accuses Pouria of sexual misconduct, an example of the regime's strategy to discredit the opposition by leveling accusations of sexual crimes. This aligns with Alizadeh's blatant disregard for individuals living with AIDS. Alizadeh replied (translated from Farsi. See image at left):
Yes. But you were completely naked when you entered the room and suggested something completely inappropriate which is why I screamed and then said I will call the police. You got scared and left the room.
The opposition must remain vigilant. The regime appears to have adopted a more aggressive strategy, aimed at tarnishing the reputation of opposition members by accusing them of everything from sexual crimes to physical assault and drug trafficking.