It is no secret that the Islamic Republic, which has ruled Iran since 1979, conducts extensive espionage and terrorist activities both in Iran and outside the country, not least in Europe. I have written many articles about this. Please take a look here, here, here and here if you want to know more.
Now I want to tell you briefly how the Islamic Republic have added another approach to its tools, to go after the opposition in exile. Conducting espionage and terrorism is a little problematic for the regime in Iran. Large monetary as well as human resources are needed at the same time that it often creates various diplomatic problems and crises. Therefore, we now see how the regime is increasingly trying to discredit the opposition. To destroy their good name in different ways.
It happens that this type of attack on a person in order to destroy his or her name comes directly from the regime. An example is when the Islamic regime's media wrote that one of the most popular TV anchors in exile, a man, had been arrested with 25 kilograms of narcotics in Amsterdam when he was on his way to Sweden. The news was obviously false and intended to harm the TV anchor who worked at one of the most popular and regime-critical TV companies in exile.
Another example was the Persian Gulf radio channel in Malmö, which was led by Vahid Haghighi and which during the first half of the 2010s devoted itself to inventing various fake news about oppositional Iranians in Malmö via its radio broadcasts.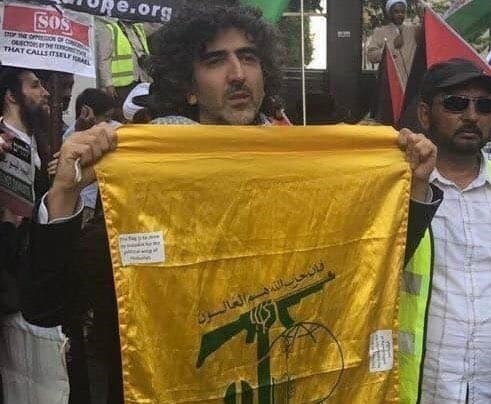 What is interesting, however, and which makes me want to write this short post, is about Ali Alizadeh who lives in London. He supports the Islamic Republic of Iran and makes no secret of it in any way. In the picture on the left you see him at a demonstration in England, where he is holding a flag belonging to the terrorist organization Hezbollah. He tweets in both English and Farsi.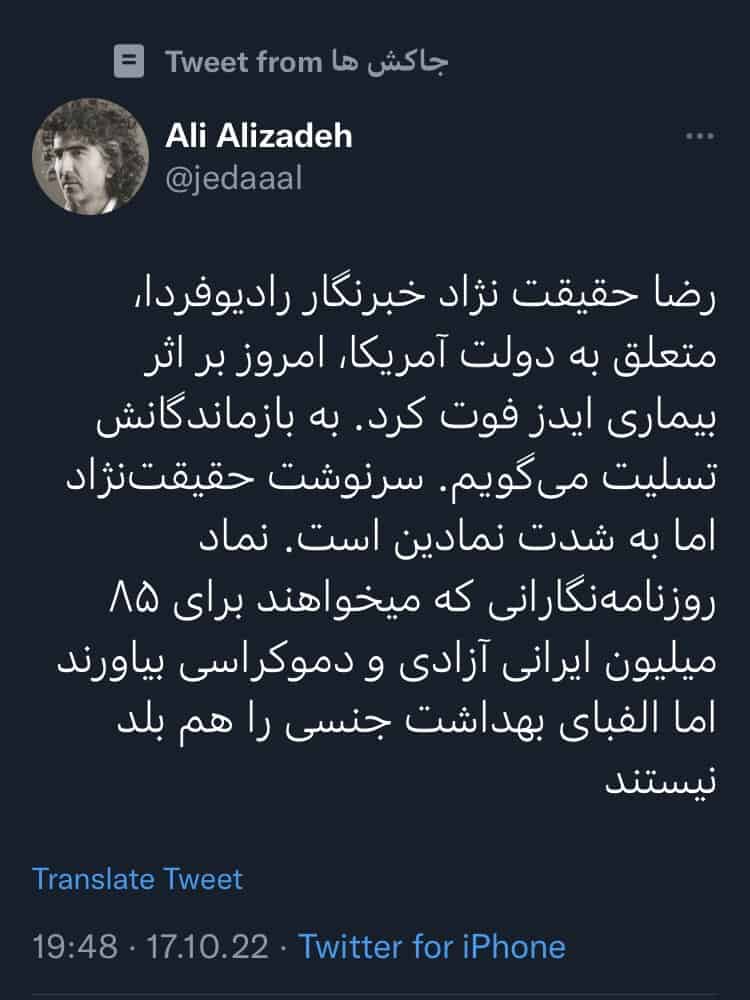 The other day came the news that the Iranian journalist Reza Haghighatnejad, who worked for Radio Farda, had died of cancer, only 45 years old. Very tragic. Reza was a great journalist and was also strongly against the Islamic regime in Iran. After his death, Alizadeh with approximately 230,000 followers, tweeted the following (translated from Farsi. See image on the left):
Reza Haghighatnejad, journalist for Radio Farda which belongs to the US government, has died today of the disease AIDS. My condolences to his loved ones. However, his fate is quite symbolic. Symbolic so that he, like other journalists, wants to bring freedom and democracy to 85 million Iranians but cannot even handle their own sexual hygiene.
Not only does Alizadeh lie about Reza's death, but he also disparages people who have AIDS. He further means that Reza got AIDS because of sexual contacts. Alizadeh is trying here as best he can to destroy the person Reza. He tries to use sex and the issue of AIDS to smear Reza.
What is disgusting is how the Islamic Republic of which Alizadeh is a part of also denigrates diseases.
Alizadeh's tweet naturally caused reactions. One of those who reacted to it is Pouria Zeerati who is a popular TV anchor in exile. Not to be confused with the man who was accused of smuggling drugs to Sweden.
Pouria writes to Alizadeh that in a TV program that Pouria hosted and where Alizadeh was also supposed to participate, that when Pouria went into a room to get Alizadeh, he saw that Alizadeh was inhaling something through his nose. Pouria further wonders in his tweet if it is these actions that contributed to Alizadeh writing crazy stuff like this about Reza's death.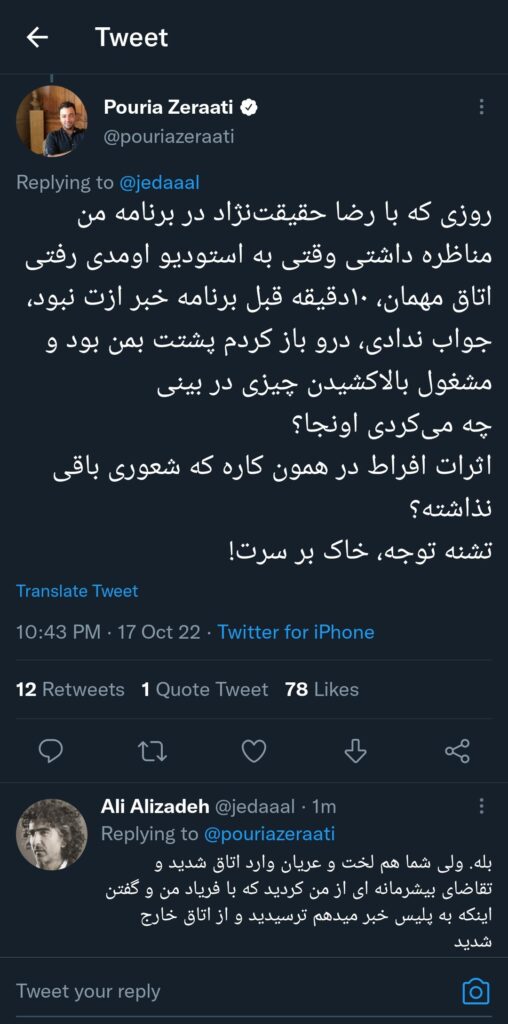 Alizadeh answers Pouria and the answer is shocking. Alizadeh writes (translated from Farsi. See image at left):
Yes. But you were completely naked when you entered the room and suggested something completely inappropriate which is why I screamed and then said I will call the police. You got scared and left the room.
Alizadeh's accusation is completely absurd, but it is a clear example of how the regime in Iran tries to smear the opposition by accusing them of sexual crimes and sexual misconduct. This also goes well with the hatred that Alizadeh shows towards people with the disease AIDS.
It is up to the opposition to be vigilant. The regime may have moved to a much more aggressive way of trying to go after the opposition by accusing them of everything from sexual crimes to assault and drug trafficking.